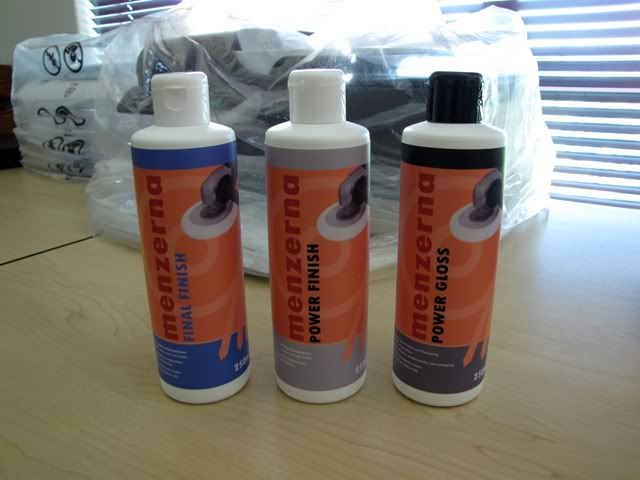 S100
Cut 5/5
Gloss 2/5
Menzerna Power Gloss S100 is the latest polishing compound designed to remove serious paint defects on the toughest clearcoat finishes.

By making use of diminishing abrasives which break down under heat and pressure, S100 is able to finish down more like a polish than a compound. Menzerna are famous for their uniform abrasives which help to minimize hazing and reduce the number of additional steps required to achieve excellent gloss levels.

Power Gloss contains twice the amount of abrasive particles compare to P203S and is capable of removing twice the defects. Where P203S is designed for removing swirls and moderate scratches, Power Gloss is more suited to removing deeper defects such as RIDS and water spots. S100 is also perfectly suited for use on the latest ceramic based clear coat finishes. Like all of the Menzerna range, S100 is silicone, wax and filler free so results are permanent.
P203S
Cut 3.5/5
Gloss 3.5/5
Menzerna Power Finish PO203S is the very latest polish from Menzerna and has been designed as a replacement for PO 85RD3.02, or SIP as it is more commonly referred to.

By combining the cutting power of SIP with the finishing ability of 106FA, Menzerna have managed to produce an excellent 1 step polish for use on moderate to mildly swirled surface. As with SIP, P203S is at home removing defects from even the toughest ceramic based clear coats whilst delivering superb gloss levels.

As with S100, P203S is silicone, wax and filler free guaranteeing perfect, permanent results everytime.
PO85RE
Cut 2/5
Gloss 5/5
Menzerna Final Finish PO85RE is an ultra fine finishing polish designed to leave your paint with the highest levels of clarity and gloss possible.

As with the other new products in the Menzerna line, PO85RE has been designed to correct defects on the latest scratch resistant paint coating systems on the market. It's super fine abrasives are perfectly suited to removing wash marring, hologramming and other fine defects that detract from the final finish. By bringing out the ultimate levels of gloss and clarity, PO85RE will provide the finishing touch to the perfect detail.
I have put this kit together to provide both the beginners, casual detailers and some of the seasoned 'pros' with a sampling of the latest Menzerna products. Investing in full 1lt bottles is admittedly overkill for many guys who are just starting out, or those who are unfamiliar with the range.
This kit contains a great spread of polishes which are suitable to tackle almost every forseable paint correction processes you are likely to encounter

Pricing on the 250ml Menzerna kits is R375