I haven't done much in the way of detailing work since late November last year. Christmas time is usually total chaos at the office due to the forced December shutdown and last year proved to be no different. I've also had a few other things going on which required my attention, leaving precious little time for detailing. Now that things have somewhat returned to normal, it's time to get stuck in again

This vehicle belongs to a new client who has been patiently waiting for me to attend to his "baby". He is also the first customer for 2011 to take up one of my newly revised service options including a complete maintenance contract for this, as well as his other new 'toy' that is being delivered next month! More details on the 2011 service options will be revealed shortly

Righty then, lets get started. Seeing as this vehicle would be having everything done (paint correction, interior, engine bay wheels and arches), I elected to only give the wheels and arches a quick rinse seeing as they would be removed shortly for a more in depth clean.
With the wheels tidied up I set about snapping a few quick pics of the general state of the car. Overall it was in good shape, aside from a few weeks worth of road grime...
Tailpipes were filthy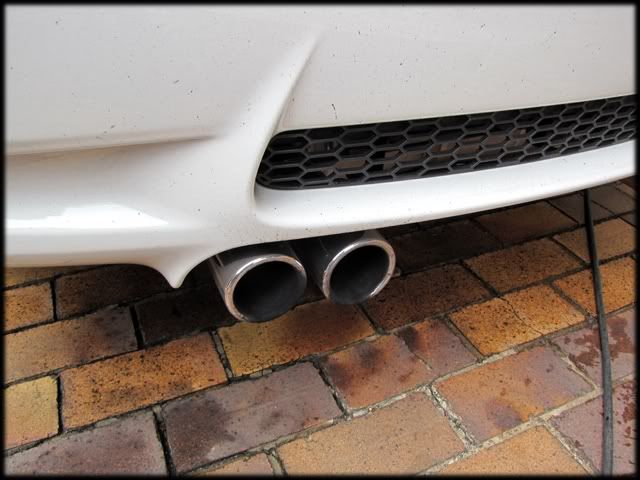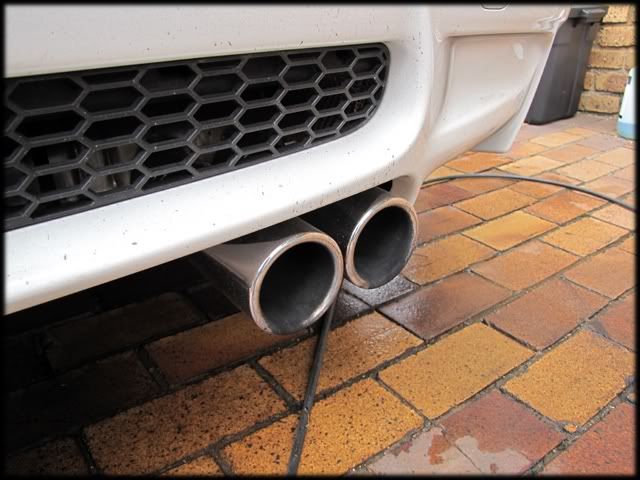 Back boxes would need some TLC
Typical road grime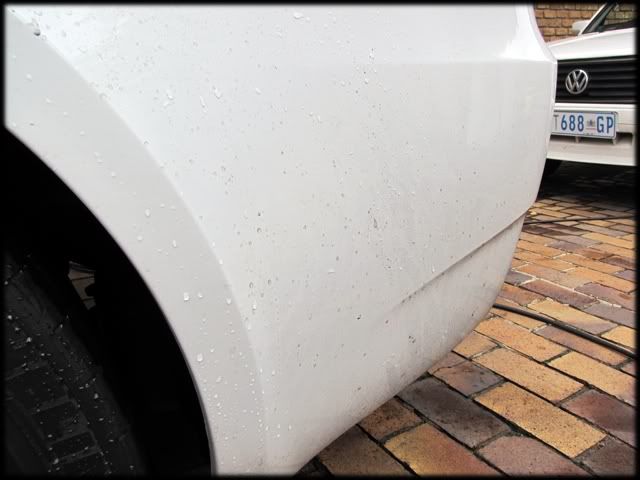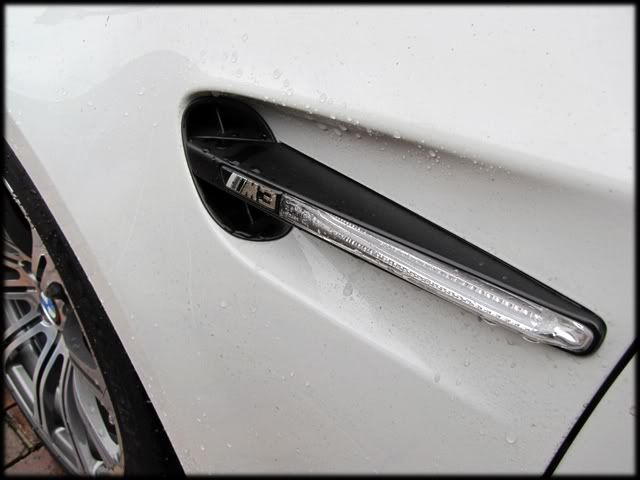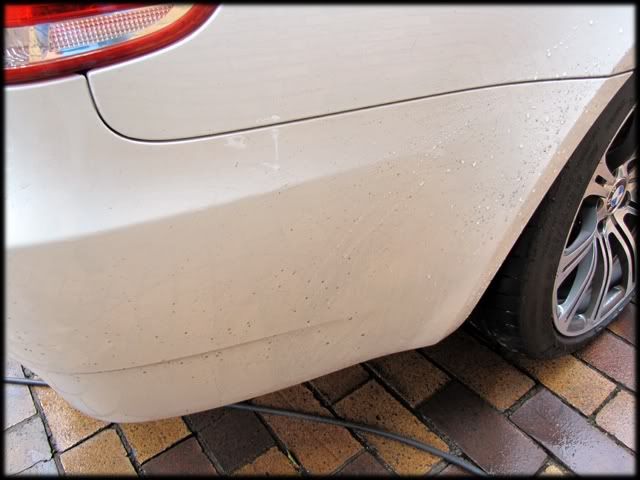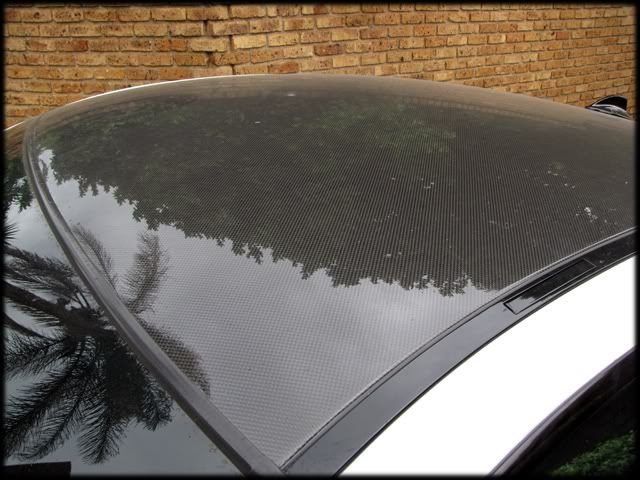 Neat looking front end...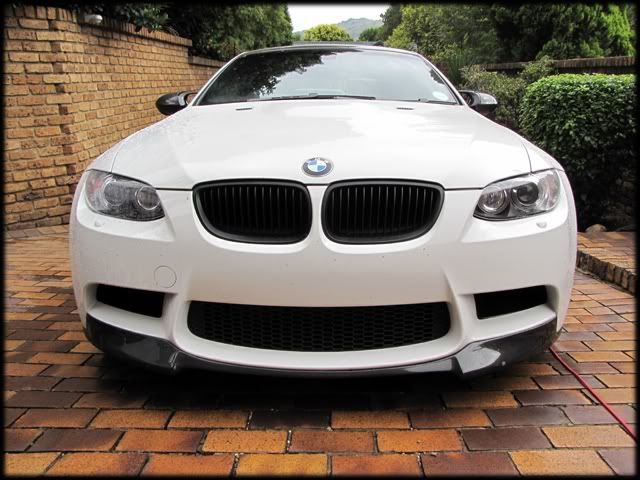 Bird bombs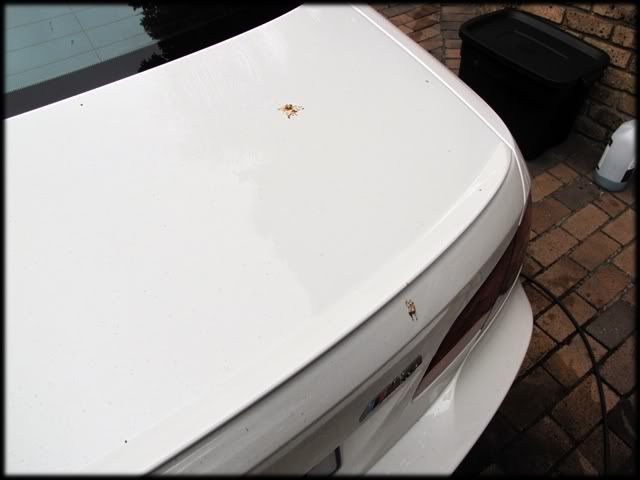 Trim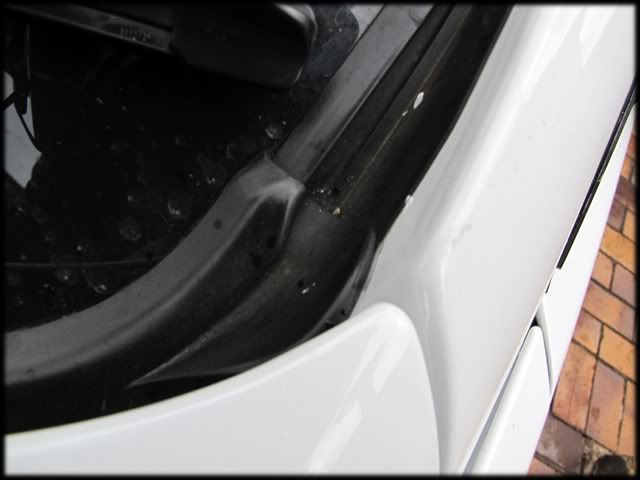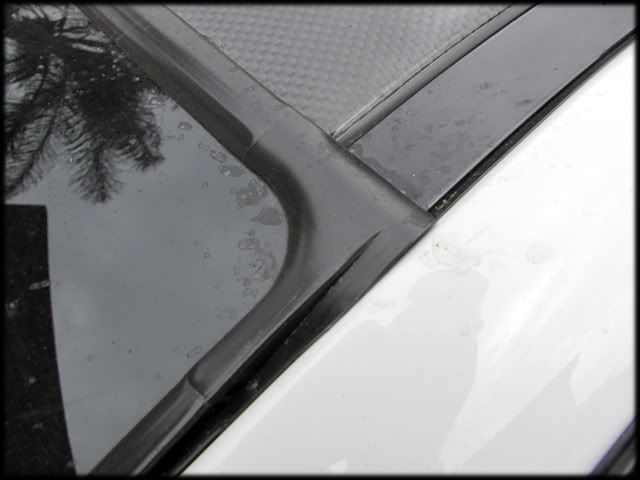 The first step involved foaming the car with a mix of APC and CG's Citrus Wash Clear to strip as much muck from the surface as possible.
Foam doing it's thing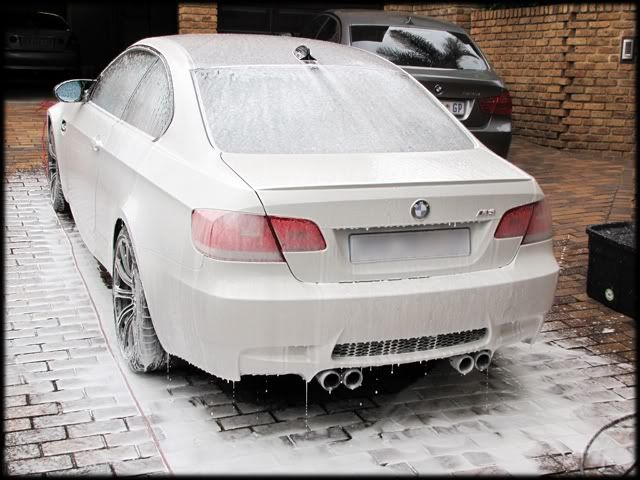 Dirty runoff
After rinsing the vehicle down it was time to attend to all the small details prior to washing. Shuts, emblems, panel gaps and trim all got cleaned and scrubbed with APC and various brushes...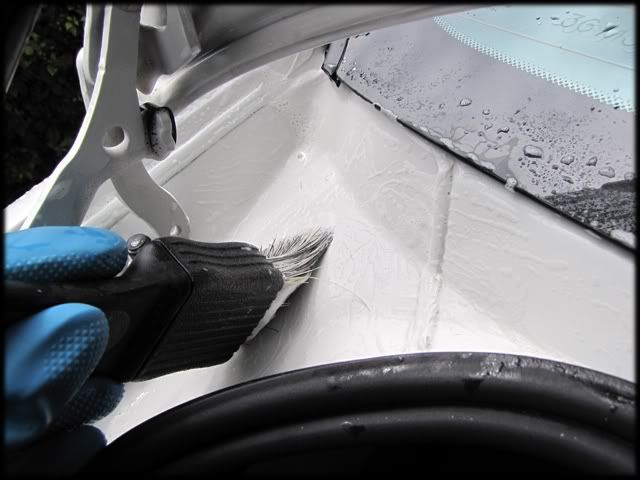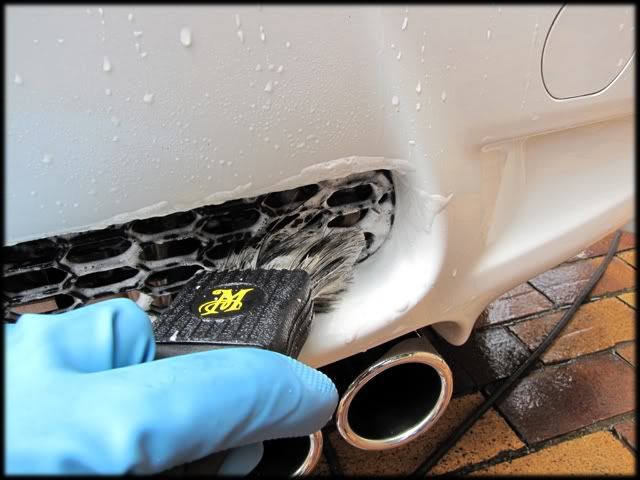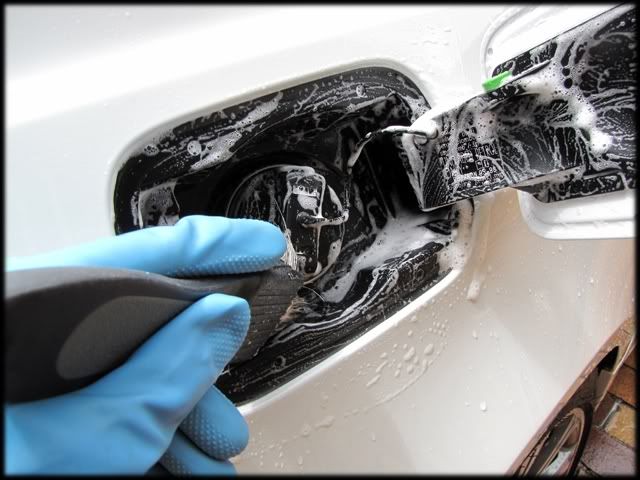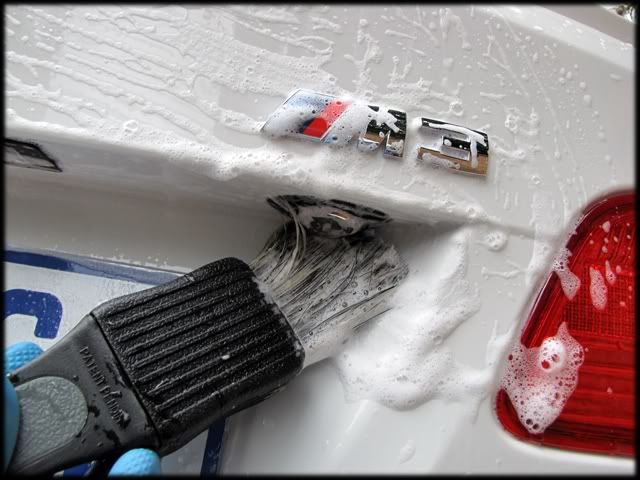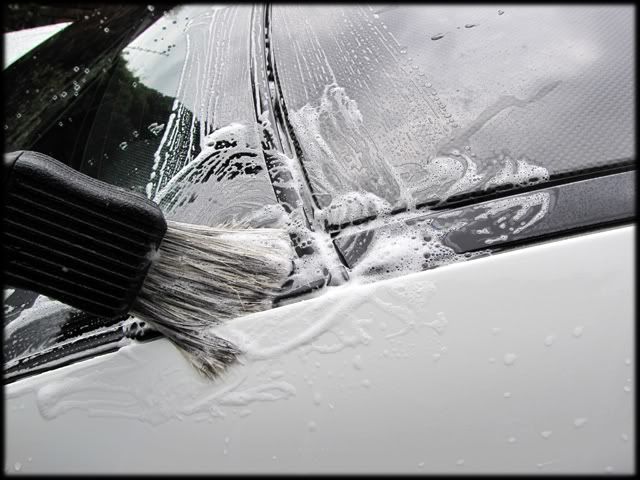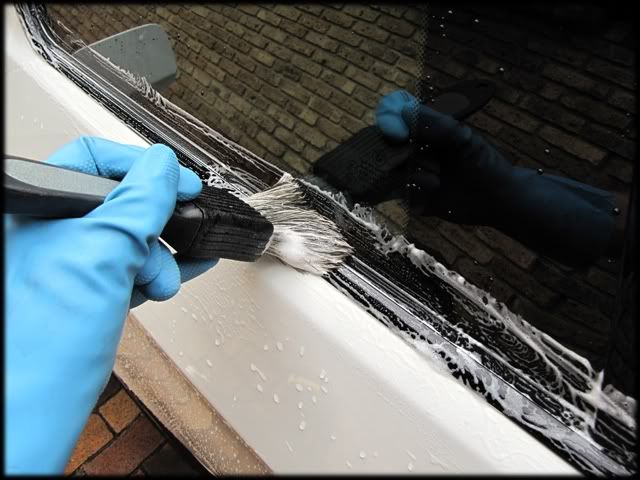 With the odds and ends all cleaned and scrubbed the car was rinsed before being re-foamed and then washed using the 2BM. After another rinse I applied a generous amount of Carpro's IronX to dissolve any embedded metal particles...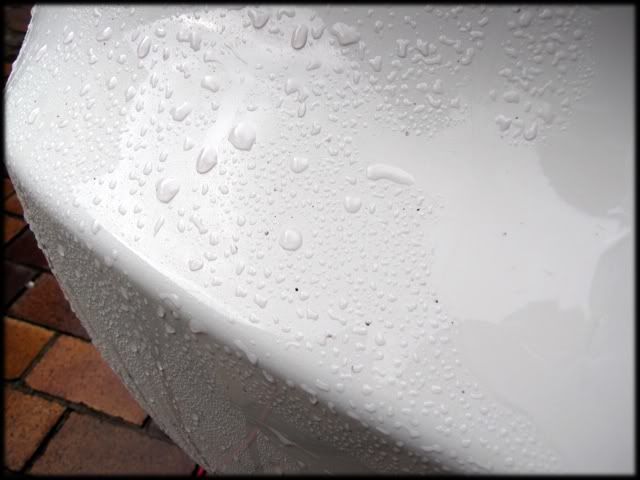 After the IronX finished working it was time for another rinse before I started claying the paintwork. Clay of choice was Automagic's medium grade clay, which made short work of removing the numerous bonded contaminants from the surface. Before drying the car I used some Sonax liquid tar remover to remove a whole host of tar spots from the vehicles right hand side (sorry no pics of these stages)!
With the car dried and pulled back into the garage it was time to get cracking on the paint correction side and see what sort of state the paintwork was in.
Overall the paintwork appeared to be in relatively good nick and largely free from fine swirling. There was however a large amount of RIDS and other defects that would require some work to correct.
Couple of pics from the test spot on the bonnet (ignore the yellow tinge, I forgot to set the white balance!)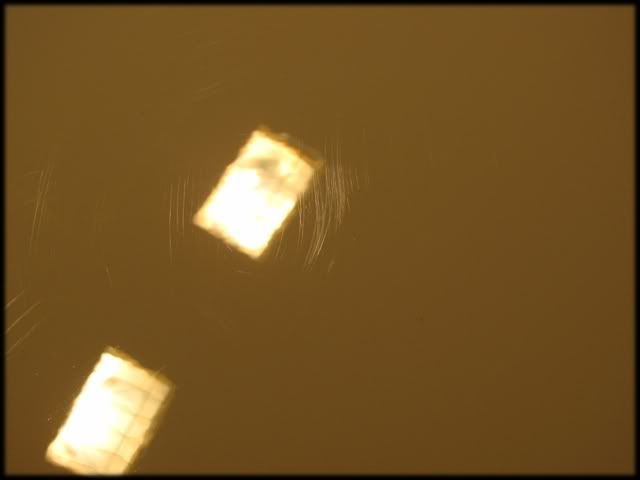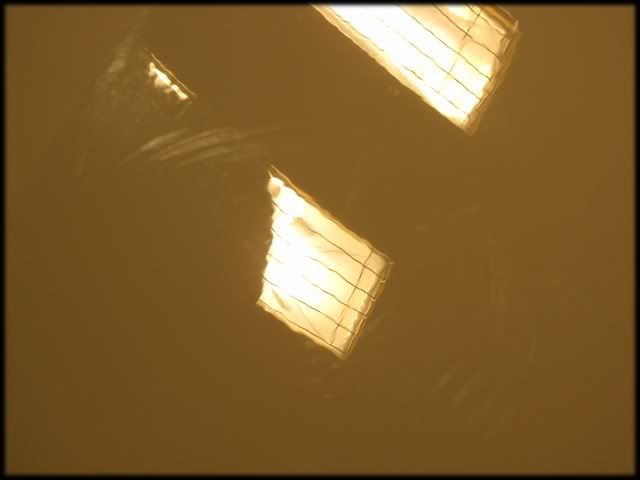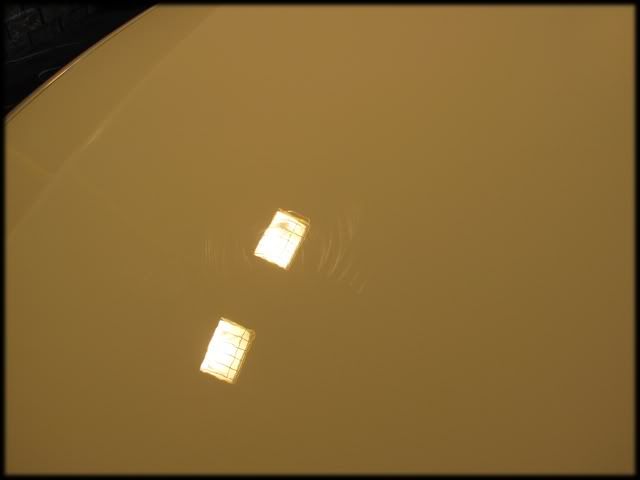 With a few PTG readings taken and a healthy amount of clear coat to work with, it was time to find a suitable combination of products to restore the paintwork to it's former glory!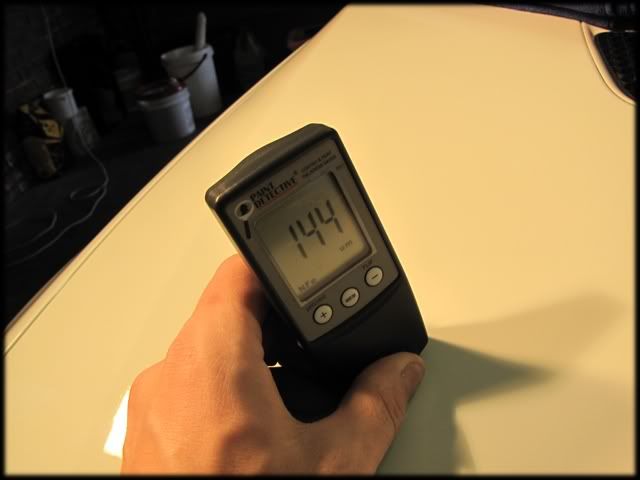 In the end the paint turned out to be quite hard, typically requiring an initial hit of 3M's FCP on a green 3M pad, followed by a lenghtly pass with SIP on another green 3M pad before being finished off with a light pass of 85RE on a yellow pad to add that last touch of gloss and clarity to the paintwork. Because I will be working on this vehicle monthly I elected not to chase every last swirl and RID, but rather restore the finish to 90+% initially, with further refinement on future visits

Quick 50/50
And a couple of afters of the test section...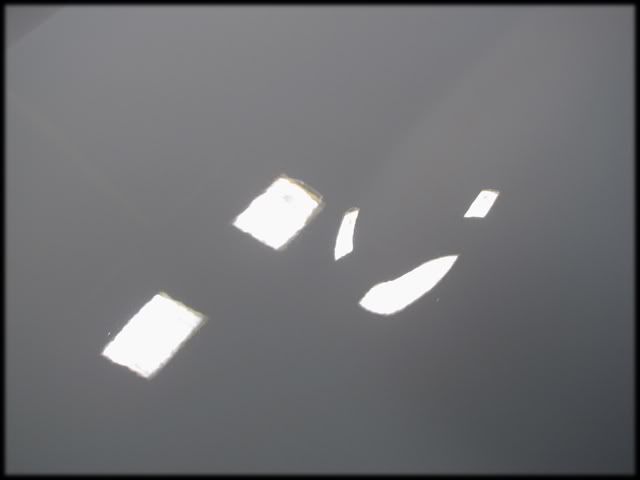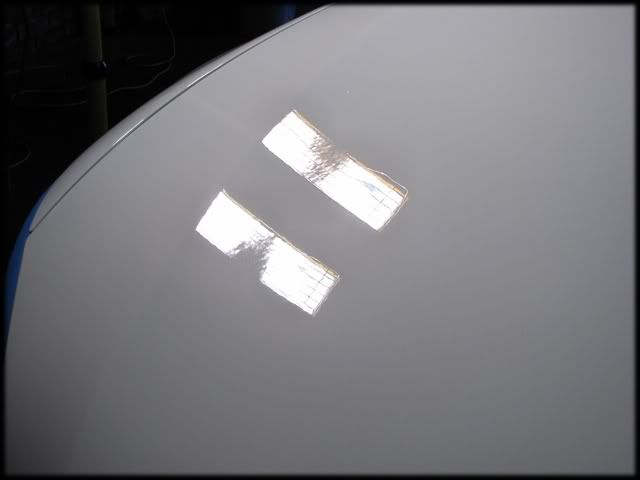 Completed bonnet
With the bonnet out of the way I turned my attention to the front bumper and drivers side fender.
A few befores showing the defects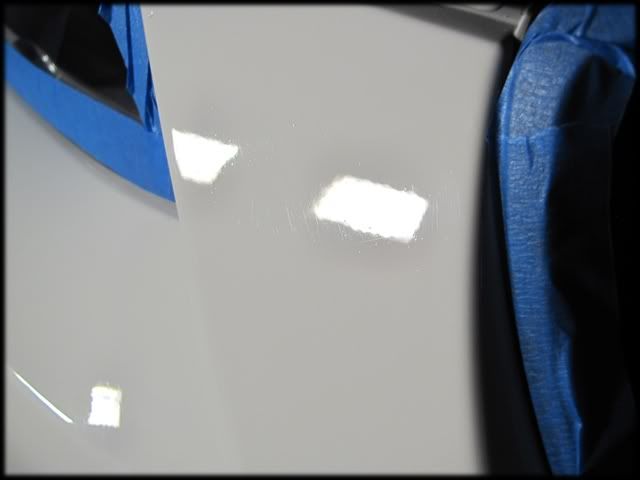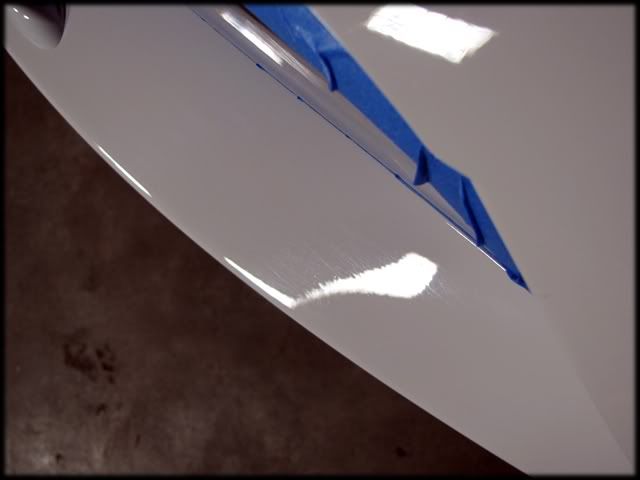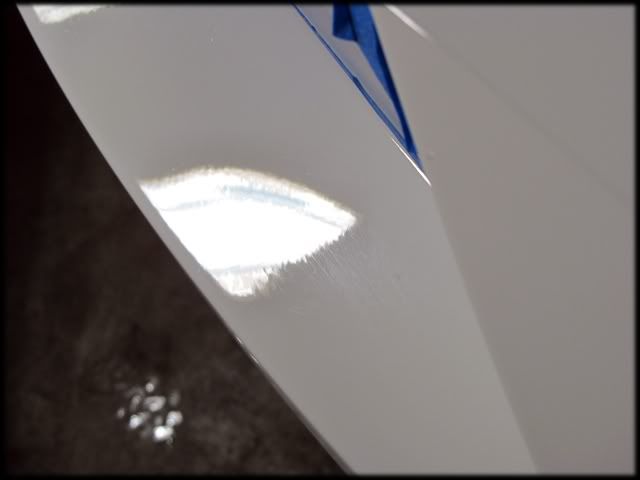 Some nasty marks on the front corner of the bumper!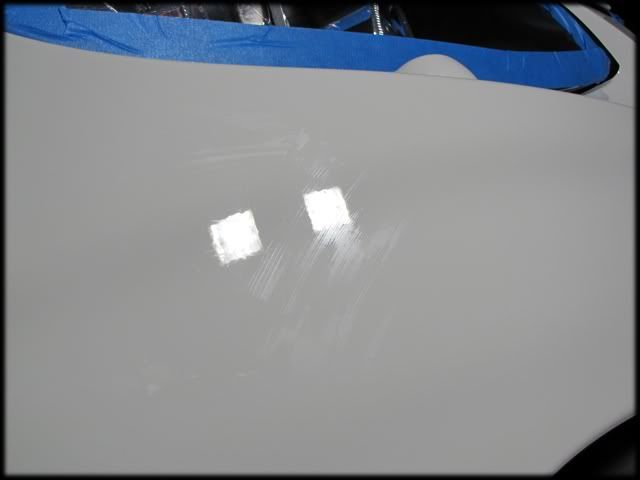 Front Vorsteiner CF lip was looking rather sorry for itself...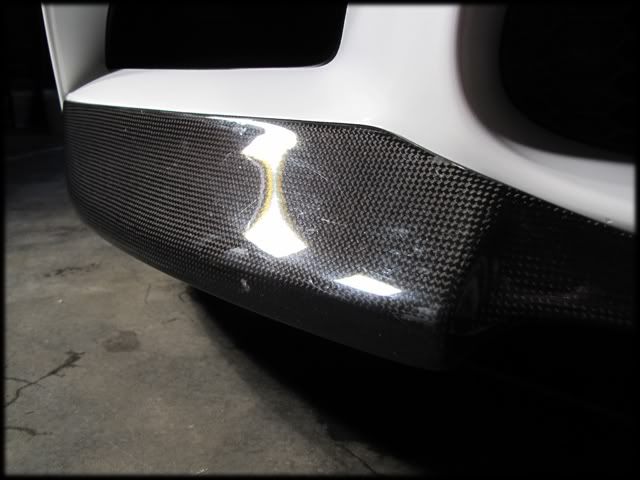 Few small defects on the fender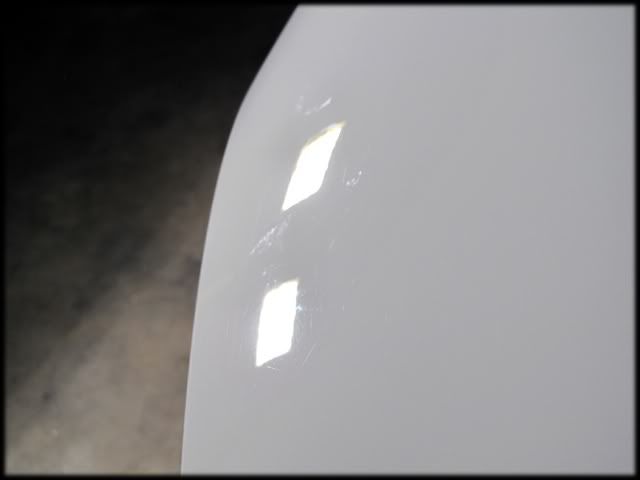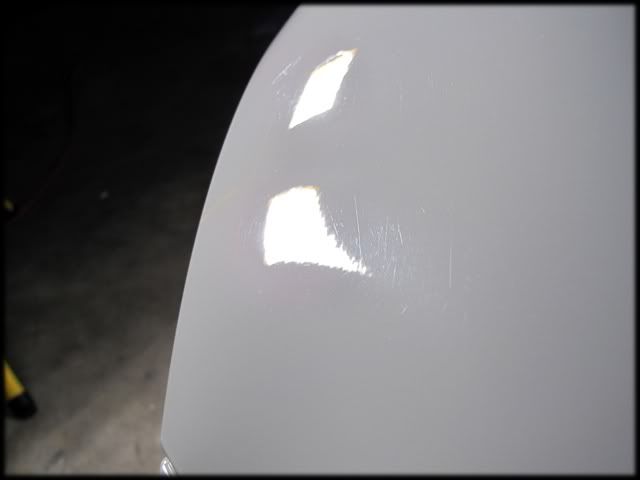 I started off with the CF lip, hitting it 3 times with SIP on a various Meguiars spot pads at low speed to restore some clarity and gloss. Overall it came up pretty well, but unfortunately there were a few deeper defects I was unwilling to chase at this point in time.
After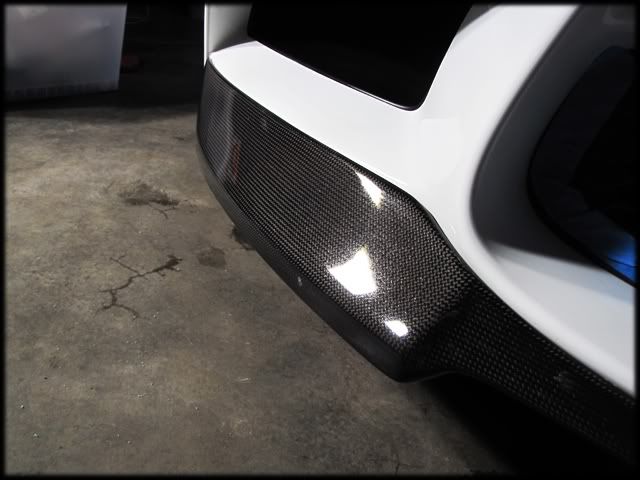 The front bumper was next and was corrected with a similar method to that as used on the bonnet. Once again there were a few RIDS that proved too deep to fully remove, but the majority were removed leaving an almost perfect finish...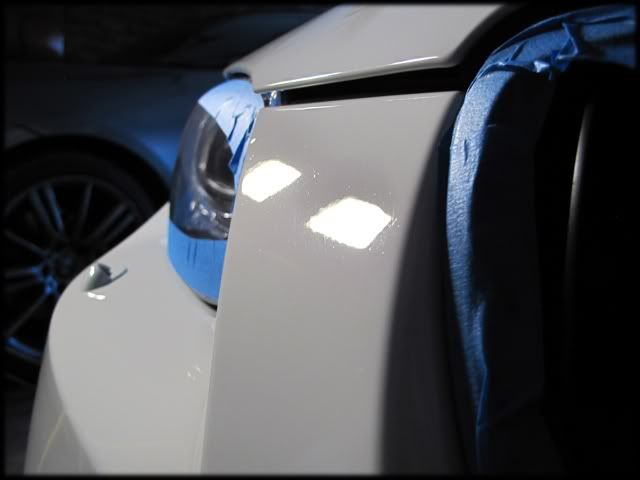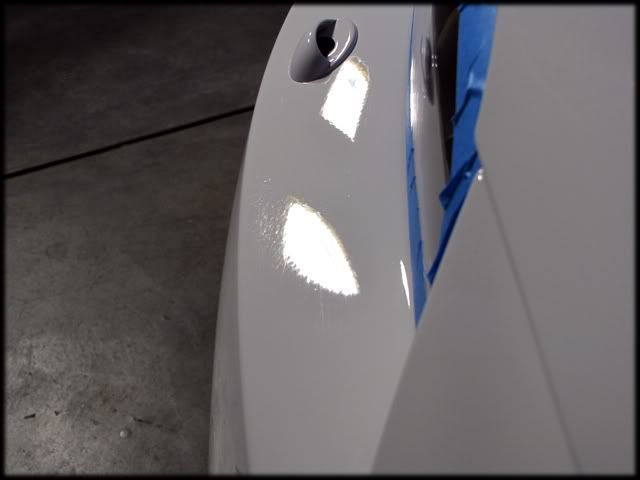 Scuffs on the front corner of the bumper came out well!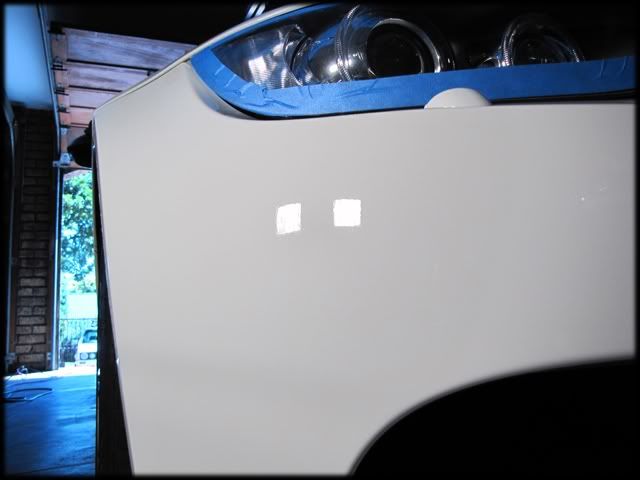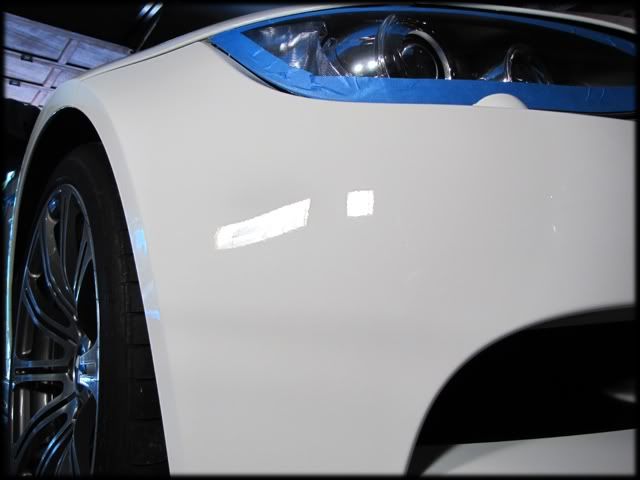 As did the front fender...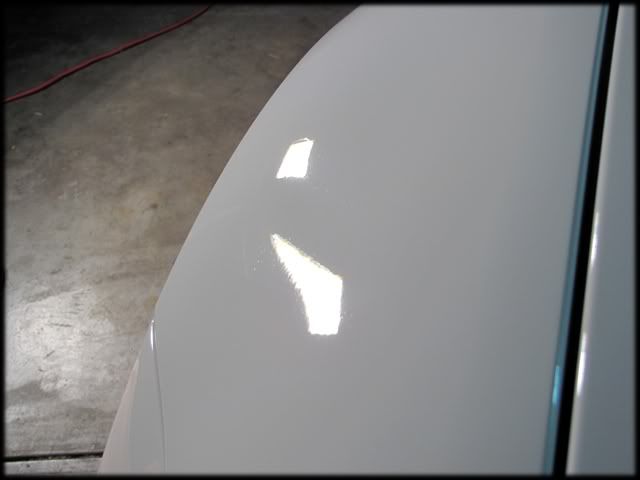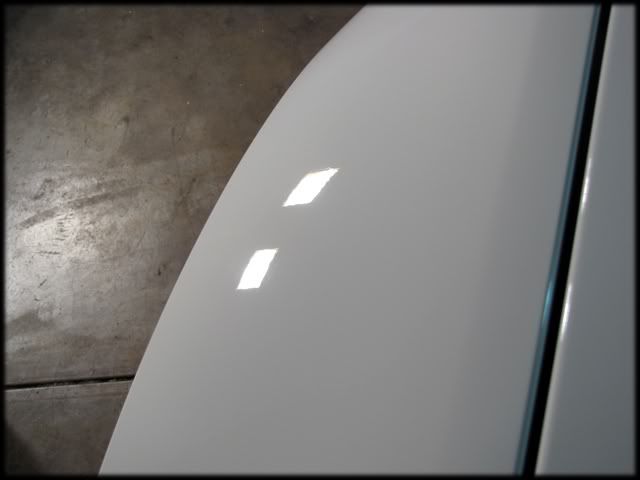 With the larger portions of the fender completed, I decided to remove the faux side vent to gain better access. This proved to be worthwhile as an 80mm spot pad fitted perfectly into the concave fender indent...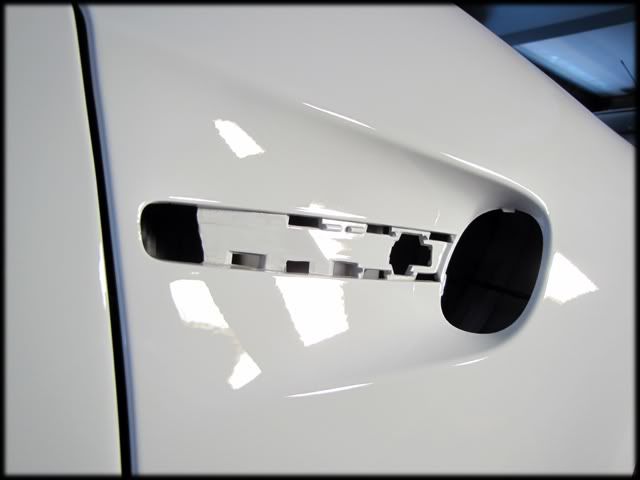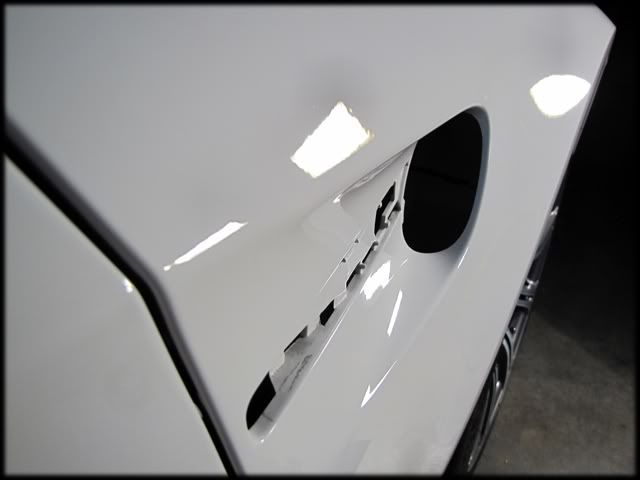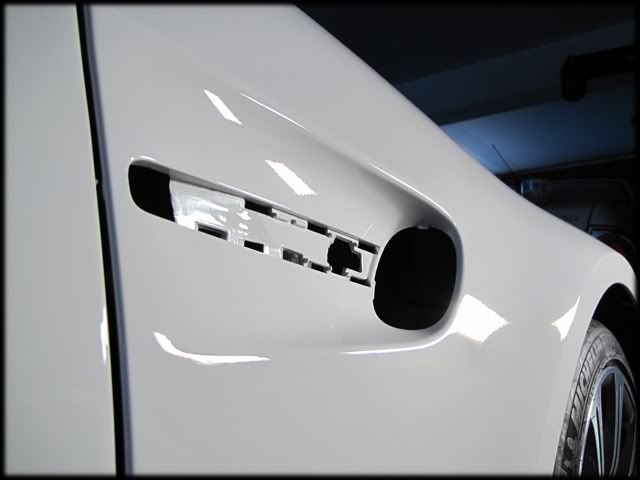 With the fender completed I and the machine setup with spot pads I decided to tackle the A-pillar, mirror and gloss black plastic trim.
Pillar before and after...Nothing serious
Mirror before...
And after...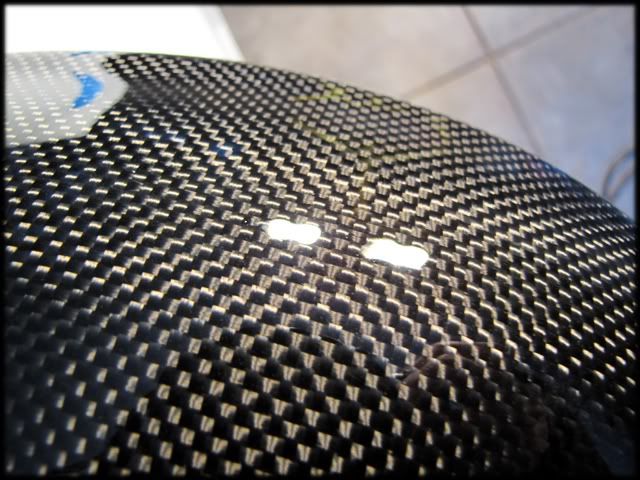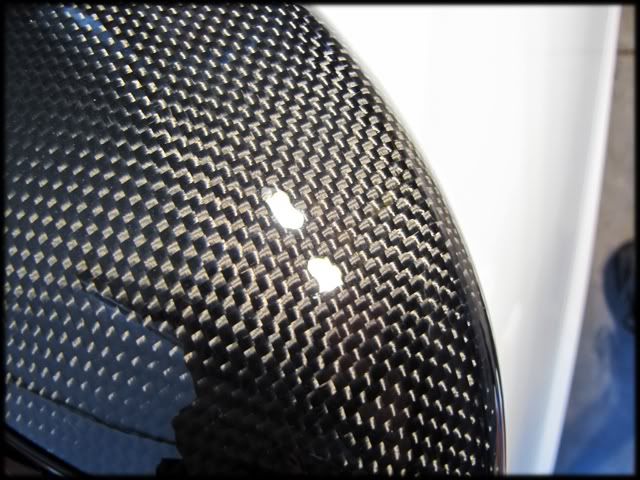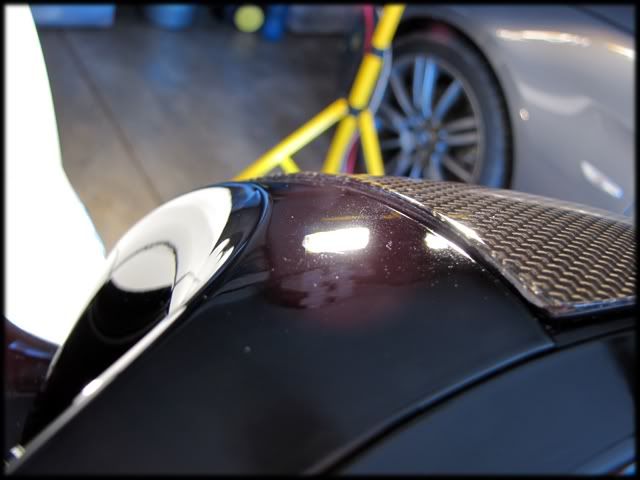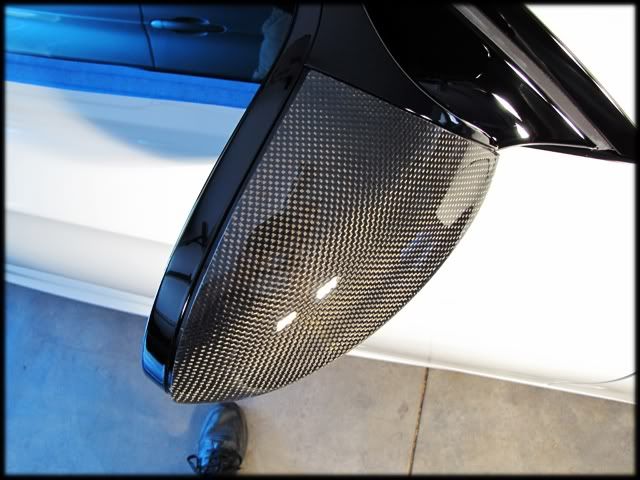 Gloss black plastics that couldn't be reached by machine were polished by hand using SIP and a BF Ultimate applicator pad (trim will be cleaned with IPA later)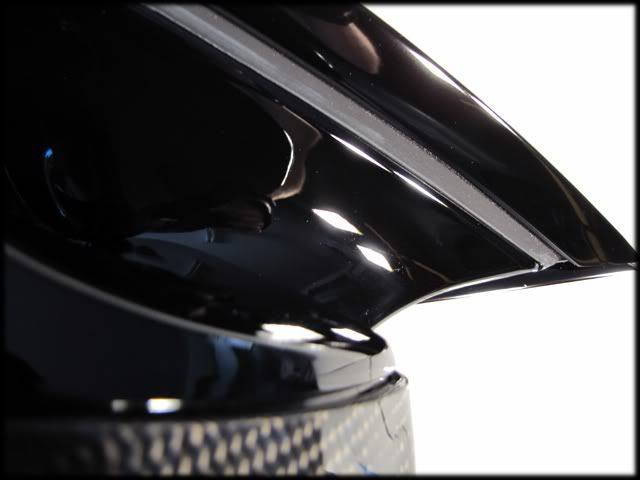 Gloss black plastic trim before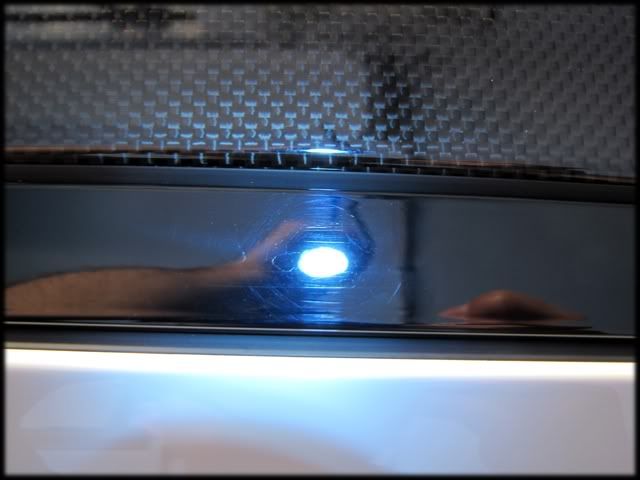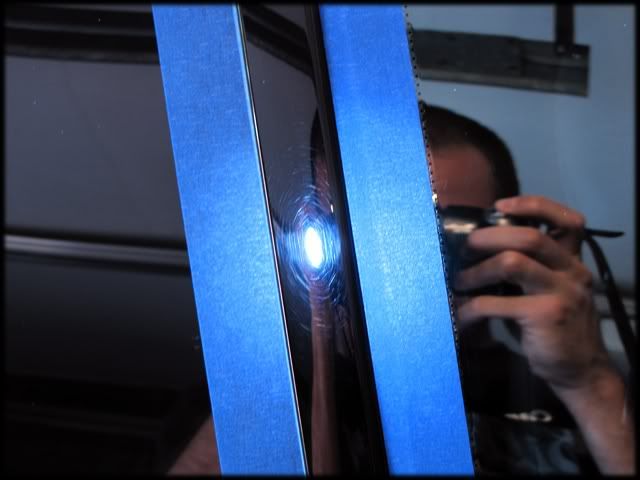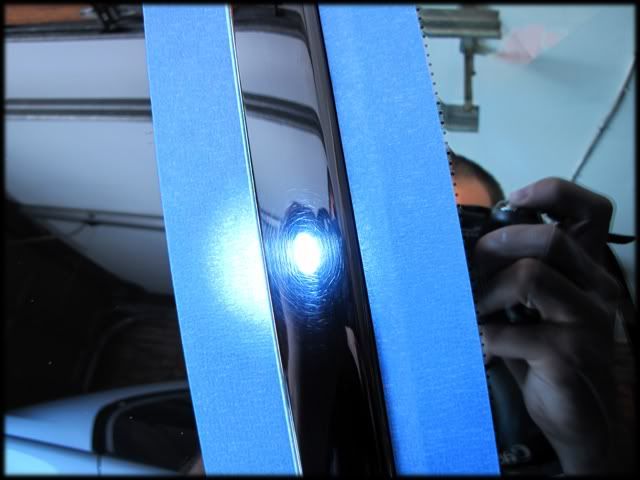 And after once again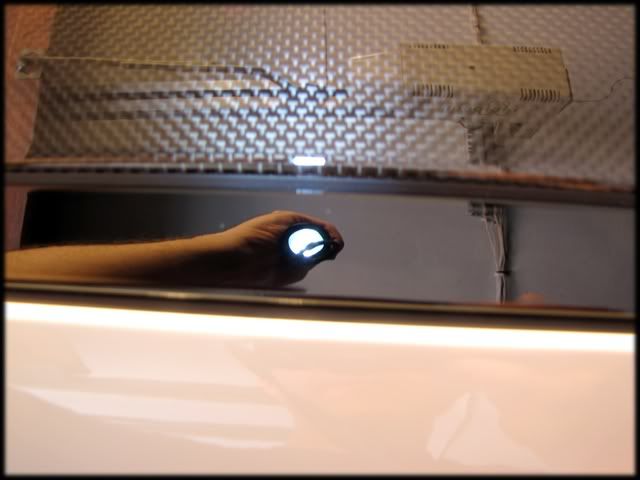 With the small bits and pieces cleaned up I turned my attention to the CF roof. Once again 2 quick befores and then afters. Process was similar to the other CF bits and involved a long, slightly slower pass with SIP on a green 3M pad, followed by a quick hit with 85RE on a yellow polishing pad.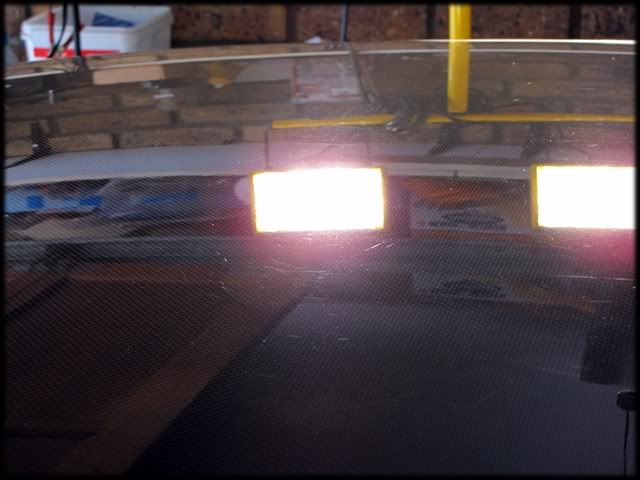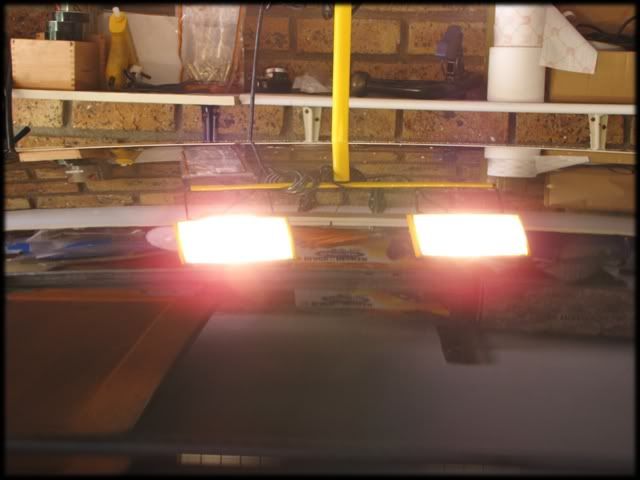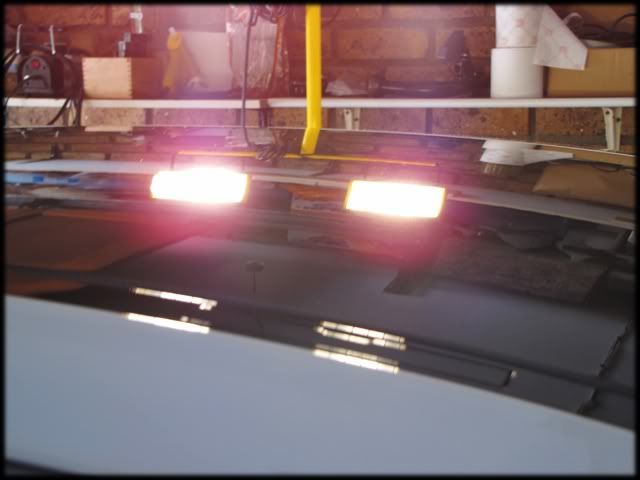 Finally before calling it quits for the weekend I polished out the drivers side door and side sill.
Side sill all cleaned up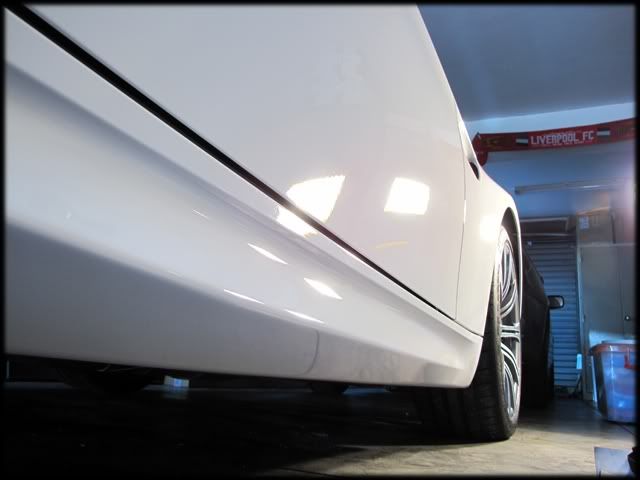 Final few quick reflection shots of the completed areas...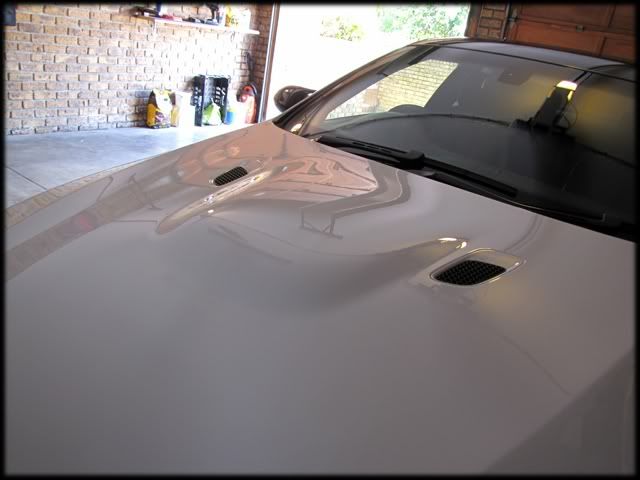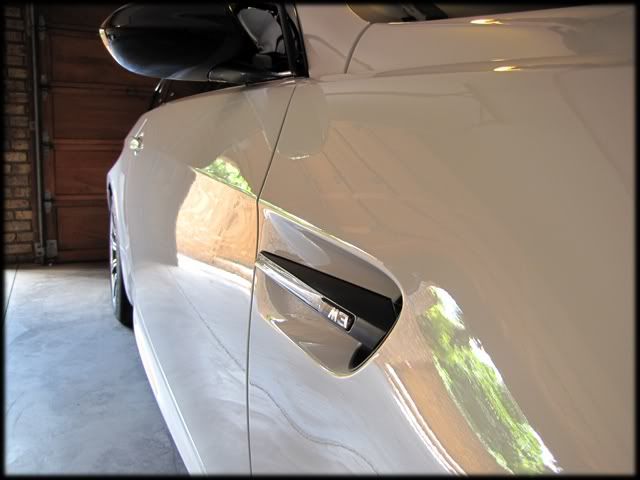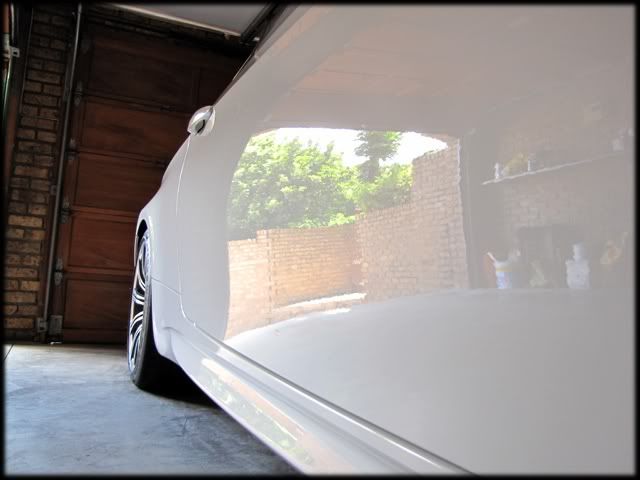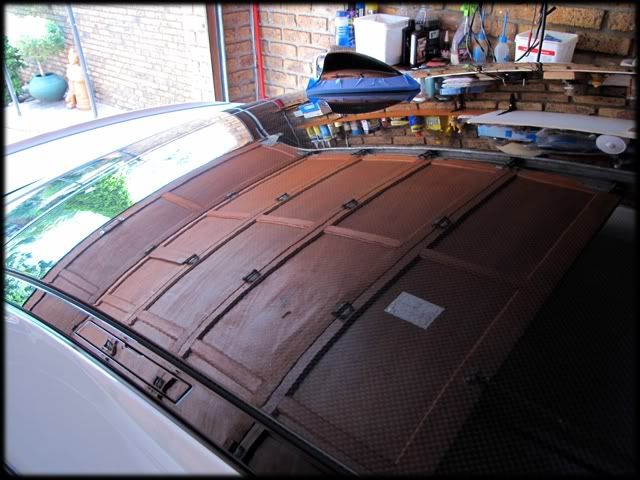 Next weekend I will return to continue with the correction work, before finishing off the exterior and turning my attention to the rest of the car

Total work time so far 17 hours.
As always, thanks for looking