Some more minor forum changes...
20-09-2010, 08:32 PM
Carn
Waxon Sponsors


Posts: 2,724
Joined: Jul 2008
Reputation: 6
Some more minor forum changes...
With the latest update having been applied successfully I was able to activate and modify a few new features

1st up is the addition of a Related Threads box at the bottom of every thread...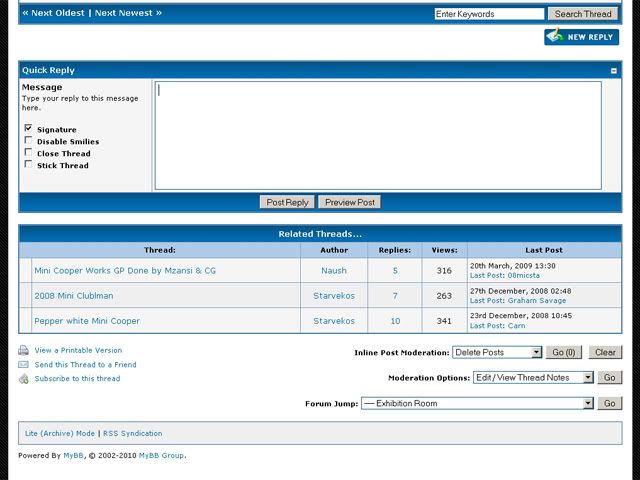 In this box you will find up to 5 similar threads which hopefully contain similar content. As you can see from the example above, Minimike19's latests Mini thread has pulled 3 similar Mini posts from the forum

Next up is the activation of a thread edit time limit. When enabled this will limit regular users from editing their posts after 5 days have passed.
I've had experiences in the past where I have been looking for a specific post I had seen previously, and despite viewing all the relevant threads I cannot find it. In some instances this is due to the user having edited their posts after I had initially seen it.
I think 5 days is long enough to mull over your post and make any changes you may deem necessary. In extreme cases once the 5 days have passed you will require a mod or section admin to make the changes for you

Lookout for a few more changes to be implemented in the coming days and weeks

As always any questions and suggestions are welcomed

---
David : 083 642 2118


www.mobileimage.co.za






User(s) browsing this thread: 1 Guest(s)