Very soft black Civic corrected
03-12-2011, 03:49 AM
zckid
Fledgeling Detailer


Posts: 157
Joined: Jan 2011
Reputation: 0
Very soft black Civic corrected
Hi guys

It's taken me a very long time.
I was very busy with our school project for the last 4 months or so. And lately. my kids were ill, the little "car-crazy" one had acute bronchitis
and I had to complete the project write-up for submission. Thanks God, my kids have recovered and the write-up completed and submitted too.
So here my detailing journey re-starts:
The civic was in very bad shape. It had been resprayed, and the defects of a custom paint job were obvious:
orange peel, pockets, pores and pits. Swirls and rids were everywhere.
(Sorry, no before pictures due to a hardware problem during image transfer.)
I wetsanded the scratches.
Usual players:
* Makita rotary
* LC orange & white pads
* Menzerna PG, Power Finish
The rids and orange peel remain though.
I didn't go for full correction the (car will be sold).
Btw, one thing I learned is removing all defects will leave the paint so thin that it will be like a football player without a helmet.
Better live with it.
The change was noticeable however. The only problem I had was dust. We are in full summer here. There had been no rain for a couple of weeks. The dust level was very high and our garage is not a closed one. And I paid heavily for it in terms of compounding scratches. The paint was very soft too. My daughter scratched the paint using the masking tape!
After polishing pics:


Just look at the dust deposits. It was in the air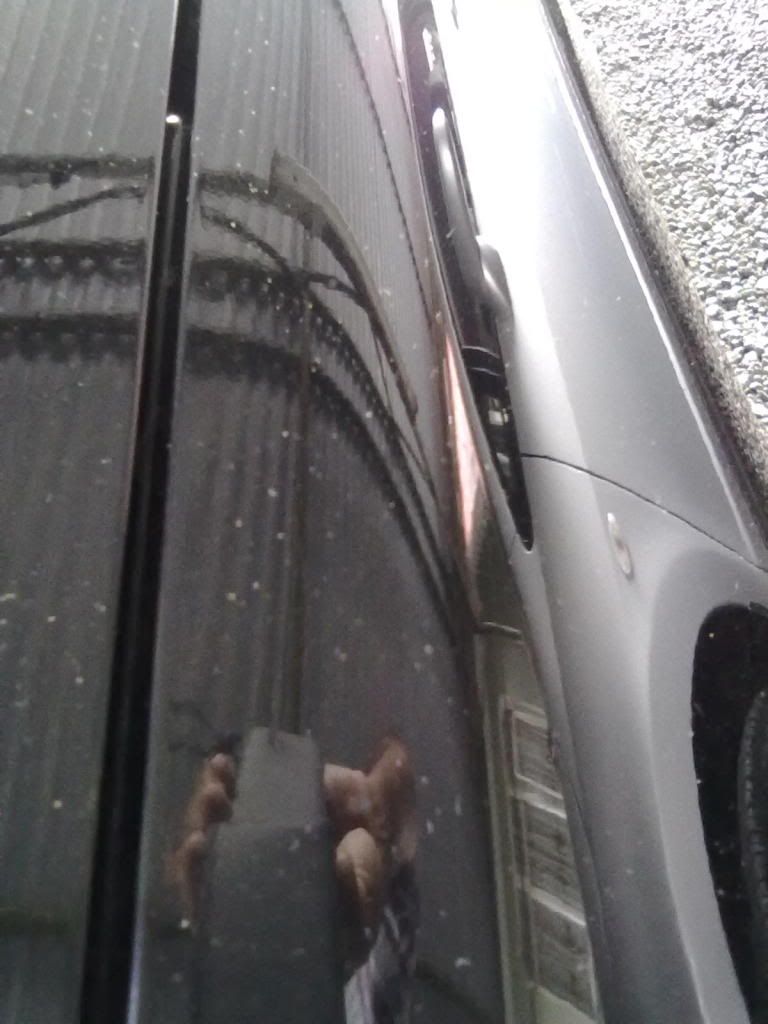 The side mirror

The sun test


Notice the sanding marks. I used Asia Abrasives sandpaper (2000 grit). Not recommended. Use other alternatives.
I didn't have these issues with Primex sandpaper I used before.
I heard that Mirka is available here (up to 2500 grit). So, I'll try to have some sheets of it. Had to go over this part with PO85rd and the LC Black to refine. Couldn't help much because of the dust in the air.
The car took me one and half days. When I got up, I had a "whole body" pain.

I just couldn't ask anybody at home to help ease the pain. They are not detailing friendly.But when I got out and saw the black civic, the joy was more intense than the pain.

I really loved the sight of it at early dawn.
The reflections off the civic were very nice.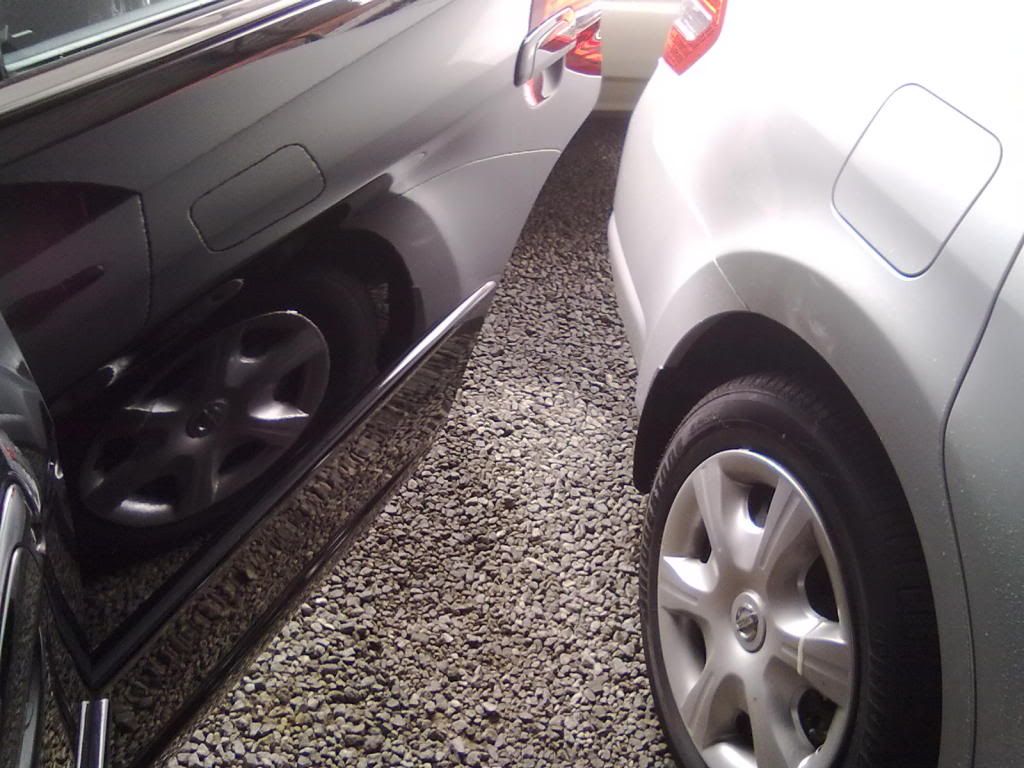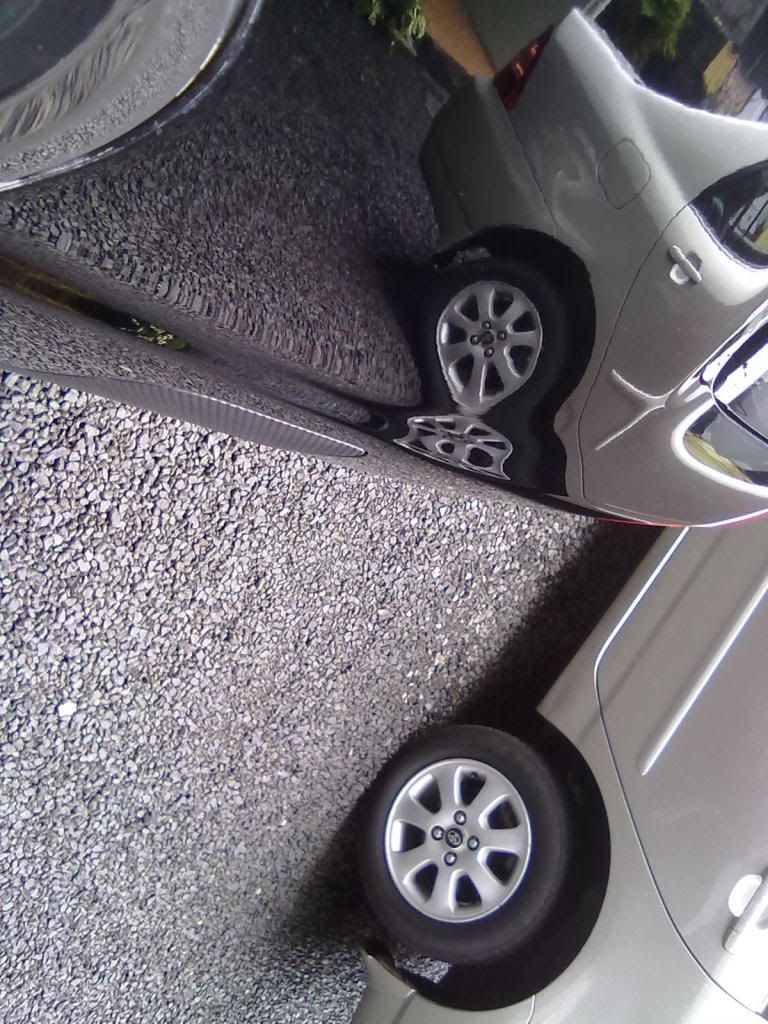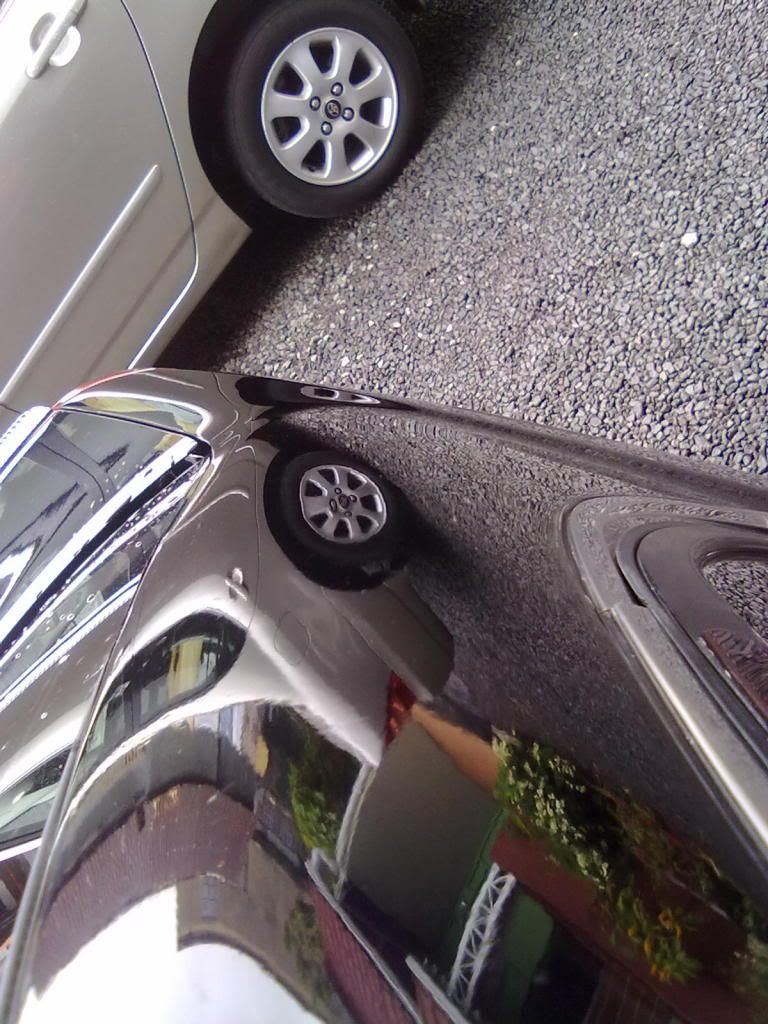 We got blessed after a few days. It rained thanks God.
Water pebbles on the paint


Praying for more rain, for more water pebbles!
Your thoughts and comments are as usual most appreciated

Thanks for watching
Zaid
03-12-2011, 09:24 PM
Jughead
Official Detailer


Posts: 396
Joined: Mar 2010
Reputation: 0
RE: Very soft black Civic corrected
Nice work Zaid!!!
06-12-2011, 10:50 AM
Rayner
Fledgeling Detailer


Posts: 99
Joined: Jan 2010
Reputation: 0
RE: Very soft black Civic corrected
Nice beading pics. what LSP do you use?
06-12-2011, 11:44 AM
(This post was last modified: 06-12-2011 11:49 AM by zckid.)
zckid
Fledgeling Detailer


Posts: 157
Joined: Jan 2011
Reputation: 0
RE: Very soft black Civic corrected
(03-12-2011 09:24 PM)

Jughead Wrote: Nice work Zaid!!!
Thanks buddy

Finishing with PO85rd would have made it looking darker and improve the depth too. There was so much dust in the air while polishing.
The paint is so soft. My daughter scratched the boot lid with the masking tape after I polished it . I had to redo it.
I'm thinking what if I started directly with PO85rd on LC white pad?
---
(06-12-2011 10:50 AM)

Rayner Wrote: Nice beading pics. what LSP do you use?
Thanks Rayner

actually, i've kind of never used any LSP so far. only Menz 203s and PO85rd.
Still got to try the Menz Sealant.
cheers
Zaid
06-12-2011, 04:17 PM
onyx
Detailing Guru


Posts: 793
Joined: Dec 2008
Reputation: 0
RE: Very soft black Civic corrected
Fantastic turn around!

Why no LSP?
---

12-12-2011, 02:35 PM
zckid
Fledgeling Detailer


Posts: 157
Joined: Jan 2011
Reputation: 0
RE: Very soft black Civic corrected

User(s) browsing this thread: 1 Guest(s)